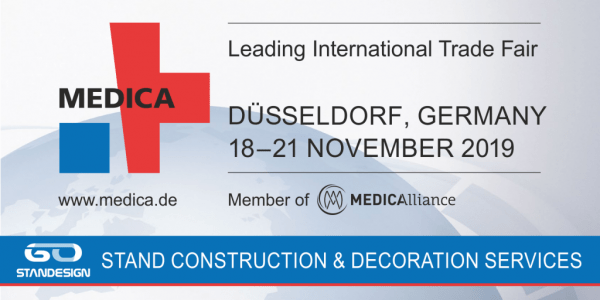 The world of medicine is meeting at MEDICA 2019 – a must for anyone wanting to experience tomorrow's healthcare market live.
The medical sector is moving towards the future, more dynamic, more digital and more closely networked than ever before. Mastering tomorrow's challenges means keeping your finger on the pulse. Businesses, opinion leaders, trade visitors, decision-makers and experts need a common platform that moves with the times. A platform that brings together medical expertise and on which knowledge is shared and the future defined – and that is always one step ahead when it comes to innovation.
MEDICA 2019: where the world of medicine meets
Come and join us at the largest international communication and networking platform in the industry. Whether you link up in Düsseldorf or virtually before the event using our matchmaking tool, the main thing is that you come together and find all that MEDICA has to offer even more quickly and easily with our new search system.
Establish valuable contacts – with only one swipe!
Establish contacts efficiently

Pre-event meeting scheduling

Personalized recommendations for business leads

Intelligent system, that improves as you interact with the algorithm
Looking to exhibit in MEDICA 2019? We are your full service, exhibition stand builder worldwide.

For exhibition stand design and construction at MEDICA 2019 in Düsseldorf, please contact our sales team.