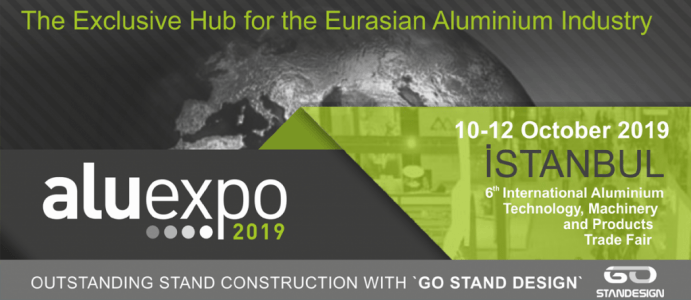 ALUEXPO 2019
10 – 12 October, 2019
ALUEXPO 2019 – 6th International Aluminium Technology, Machinery and Products Trade Fair
With a global reputation as one of the biggest aluminium event of 2019, the ALUEXPO trade fair is a high-level gathering place for professionals, deal makers and experts in the aluminium industry. This unique business and networking platform will open its doors 10-12 October 2019 and showcase all the new aluminium technologies in the metallurgy industry under one roof.
The Success of ALUEXPO 2017 in Numbers
319 exhibitors from 33 countries , 162 national, 157 international in total
11.421 visitors from 82 countries
8.471 square meters net stand space
Concurrent Symposium
The 8thAluminium Symposium was held at the same time and place with ALUEXPO 2017 with the cooperation of TALSAD, TÜBİTAK Marmara Research Center and TMMOB Chamber of Metallurgical and Materials Engineers. The Symposium brought together all aluminium production technologies and every dimensions of aluminium industry in academic platform to examine the economic, technological, scientific fields of Aluminium Industry. Symposium succeeded at creating a vision for Turkey's existing and future status in global aluminium industry.